| | | |
| --- | --- | --- |
| | | TINSAT |
---
TINSAT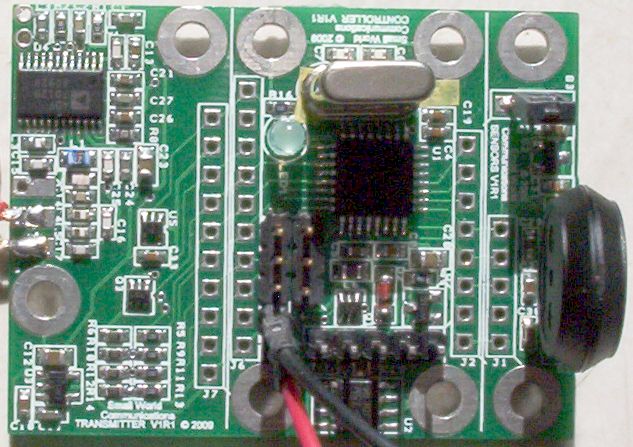 Photo larger than actual size.
The TINSAT cansat system consists of three separate modules. The Sensor Module (SM) includes a Freescale Semiconductor MPX4115A pressure sensor, Microchip TC1047A temperature sensor and Honeywell HIH-4000 humidity sensor. The Controller Module (CM) includes an Atmel ATmega328P 12.288 MHz microcontroller with serial interface and a light emitting diode (LED). The Transmitter Module (TM) includes an Analog Devices ADF7012 transmitter. The modules are available separately, as one single printed circuit board (PCB), as a SM/CM PCB or as a CM/TM PCB.
Features
Pressure, temperature and humidity sensors
Total of six A/D or four A/D and I2C
ATmega328P microcontroller at 12.288 MHz
Serial interface
LED output
9V input
1200 bit/s AFSK or 9600 bit/s FSK or GFSK AX.25 packets
916.36 MHz ISM Band transmit frequency (other frequencies available on request)
Up to 20 mW transmit power
Very small size 38.6x51.3 mm single board or separate boards for sensors, controller and transmitter
Bootloader for Flash and EEPROM programming using standard serial cable
AU$230 not including GST (about US$230) for a set of boards (sensors, controller and transmitter), connecting cables and computer cable. Lower pricing available for higher quantities. For all orders please contact us for a quote. Note that each TinSat is made to order, so delivery times can vary from one week to two months, depending on availability of parts.
---
Specifications subject to change without notice.

Last update 17 Aug. 2011. Home